Improve your in-person user testing skills
Most user testing is useless testing. Because most user testing is done wrong. So stop wasting money and time, and learn out how to do it right.
User testing is more than just sitting next to someone while they use your website, intranet or app. If you want truly reliable and actionable results, then there are more than a few dos and don'ts you must know about. On this course you'll find out everything about all types of user testing, from the recruitment and the scenario up until moderating and eye tracking for in-person user testing. So you can feel confident to go out and do your own in-person and remote user testing.
In short: This course is a unique opportunity to improve your skills and become a true expert on user testing, with the help of two of the worlds leading experts in the field. By the end of the day, you'll know all the in's and out's on the whole in-person user testing process.
As a participant you will learn how to
Know when to use which user testing method
Recruit the right participants to maximize insights
Create a test scenario that gets you the answers you're looking for
Interact with test participants without transferring bias
Document and analyse the results so you can make the most of your findings
Kursprogrammet
09.00-10:00
Moderated user testing: the basics
What kinds of usability testing are there?
When to use which method?
What about eye-tracking?
And when are heatmaps interesting?
10.00-11.00
Recruitment of test users
How important is it to recruit the right users?
How can you reach them?
How to avoid no-shows?
11.00-12.00
Test scenario
How to determine the scope of the test?
What kind of questions should and shouldn't you ask?
Does the order of tasks matter?
Moderating skills
This is where most user tests fail.
We'll show you how to avoid the common pitfalls of moderating a usability test: how to ask questions in a non-leading way, how to make use of non-verbal communication, how to deal with difficult test users …
Documentation & analysis of the results
How do you end a day of user testing with actionable results?
How to keep the observer room involved?
How to convince everyone to do something with the results?
By the end of the day, you'll know all the in's and out's on the whole in-person user testing process.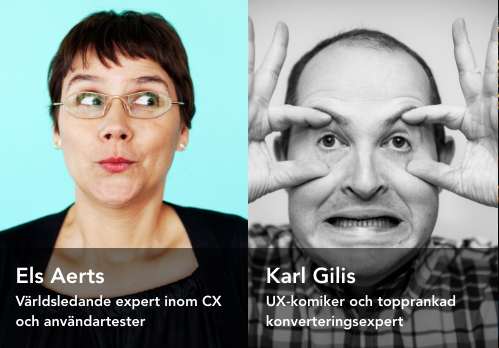 Teachers: Els Aerts and Karl Gilis
– world leading experts in CRO
Els is a world-renowned keynote speaker and expert in qualitative user research and moderated user testing in particular. She loves helping companies to understand their customers better. Because a happy customer is a returning customer. Els has moderated over 3.500 user tests for companies such as AtlasCopco, Orange, Daikin and Bridgestone.
Karl is the number 3 most influential conversion expert in the world, according to PPC Hero. Always based on user research & facts. Karl's mission in life is to cure people that do online marketing based on gut feeling and opinions. Karl teaches at several universities in Belgium, speaks at conferences all over the world and is a top rated trainer at CXL Institute. He's also known as the 'UX comedian'. He works for companies such as Suzuki, TUI, Sony and Carglass.