Optimize your website based on real data – with Karl Gilis
Many websites have a lot of visitors, but most of them do not convert. The trick is to find out why. In this premium online course, hosted live by one of the world's leading experts in the field, you will learn how user research methods can help you answer this crucial question.
This course is perfect for you if you believe that online marketing and website optimization shouldn't be based on gut feeling and opinions – and want to learn how to gather the right data and then use a proven strategy to improve your conversion rate based on that. You're probably a marketer, product manager, online manager, business owner or similar and you want practical tips you can get started with tomorrow.
This course can be taken independently, but is also a part of our program Certified conversion manager.
You'll learn how to
Use user research tools and techniques to uncover the motivation and needs of your audience
Implement a proven, repeatable process that helps you optimize your website step by step based on data
Find usability and UX problems on any landing page or website
Extract the highest value insights from surveys, heat maps, user recordings, form analytics, user testing, click testing and much more
Your teacher: Karl Gilis – world leading expert in CRO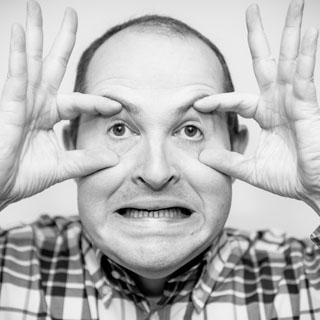 Karl is the number 3 most influential conversion expert in the world, according to PPC Hero. Always based on user research & facts, Karl's mission in life is to cure people that do online marketing based on gut feeling and opinions. Karl speaks at conferences all over the world and is a top rated trainer at CXL Institute. He's also known as the "UX comedian".
Course content
Discover where your website is leaking money. And fix it.
It all starts with asking the right questions about your data.
Scroll and click heatmaps: what you can learn from them
User session recordings how to process them and what patterns to look for?
Form analysis: how to improve your forms with form analysis.
Change the behavior of your visitors by discovering their why
Why it's important for your brand to understand the why of your visitors
How to uncover the motivations, frustrations and dreams of your audience
Targeted surveys: which questions to ask when? Trust us: this method is gold.
Why do people buy from you? Why don't they buy from you?
What are their fears and barriers?
What is their explicit and implicit motivation?
How to get a growth and optimization mindset?
UX, usability, conversion optimization, A/B testing: is it all the same or not?
The limitations of UX and usability guidelines.
The right mindset to be really customer-centric.
A proven process and methodology that allows you to identify the weak spots of any website or landing page.
FAQ
Nope. However, in order to get the most out of the course, it is essential that you have – or want to obtain – a professional role where user research methods can be applied.
All you need is access to a computer, smartphone or tablet with a good internet connection, and headphones. Sit somewhere comfortable and undisturbed. You don't need to install any specific software – you simply connect to the video platform Zoom* via a link that we send to you by email a few days before the course.
Yes! You can ask questions to the teacher before, during and even after the course. You also have the opportunity to interact with other participants during the course.
After completing the course you will have access to Karl's presentation material. It serves as a summary of the contents that you can go back to later if needed.
We have a very generous cancellation policy. You can cancel your booking completely free of charge up to 30 days before the course date. Should you be prevented from participating after this date, you can transfer your booking to a colleague at no charge – or choose to have the booking outstanding for future course dates. So your booking will not be wasted even if you are prevented from participating at very short notice.
We are happy to answer your questions! You can easily reach us by emailing webdagarna@idg.se or calling / texting John Sundström at +46707257188.
Dates don't fit your calendar? Leave your email and we'll keep you posted about new dates.